Prolisur Acústica is the leading Andalusian company in insulation solutions for building and industry since 1980.
Our acoustics department in Sevilla, made up of expert noise control engineers, designs guaranteed solutions in soundproofing, adaptation or acoustic conditioning for projects of any size.
We also have an acoustic laboratory, which allows us to carry out noise, reverberation or vibration measurements, as well as carry out tests with any system that requires certification.
About noise in acoustics
What noise levels do we suffer in Europe and Spain
In Europe
40% of people residing in Europe, according to the World Health Organization (WHO), are exposed to noise from road traffic at levels above 55 decibels (dB), highlighting that more than 30% of those People experience noise levels above 55 dB at night.
At Prolisur we are well aware that these reference values, which are constantly exceeded in Spain, represent a significant risk. For example, the WHO tells us that for restful sleep, continuous background noise should be kept below 30 dB and isolated noise should not exceed 40 dB outside bedrooms.
The WHO also warns that to guarantee teaching and learning conditions, noise in classrooms should not exceed 35 dB.
In Spain
20% of Spaniards receive noise levels above the levels considered adequate for human health.
According to the 2012 Noise and Health Study, hospital admissions for treatment for cardiovascular causes in noisy areas increase by 5.3% for each decibel above the 65 dB threshold. From these noise levels, our body defends itself by activating nervous hormonal responses and causing an increase in blood pressure, heart rate and vasoconstriction, making the blood thicker. It also causes changes in the endocrine and nervous systems in Spaniards that affect the circulatory system and constitute risk factors for cardiovascular diseases.
Another conclusion of the 2012 Noise and Health Study is that, in people over 65 years of age, the chances of suffering a stroke increase by 14% for every 10 dB that the noise level increases above the recommended limits.
But how does it affect the human brain?
Noise also wreaks havoc on the brain, as Dr. Bronzaft has shown in a study she conducted at Washington Heights Public Schools (in Manhattan). Dr. Bronzaft measured the decibels in the building's classrooms. Some of the classrooms were located on the Metro network and the students heard the rattle of the trains every five minutes. Other classrooms were away from the noise of the Metro, on the opposite side of the building. The difference? In sixth grade, the children on the noisy side were almost a year behind the children on the quiet side. Since then, the conclusions about the effects of noise have been supported by many other studies, both for students and adults.
Why choose Prolisur for noise control?
At Prolisur, a leading company since 1980, we are clear that noise control from the engineering field is a very important aspect for the proper development of daily life, in the residential environment, in education, in industry and in leisure.
We know that the noise generated by streets with traffic, industrial processes and some leisure activities is a problem that is increasingly worrying highly prestigious international entities and regulatory bodies in all countries. That is why the Prolisur team of engineers is passionately specialized and always updated in the area of acoustics, and especially in the design of the most efficient and least expensive corrective measures based on the best available techniques.
Types of environments in decibels (dBs)
–Silent environment (represented in light green)
– Little noisy environment (in green)
– Noisy environment (in orange)
– Annoying environment (in light red)
– Unbearable environment (in reddark)

Silence
0dBs
Footfall
10dBs
Wind in trees
20dBs
Quiet conversation
30dBs
Library
40dBs
Quiet office
50dBs
Conversation
60dBs
City traffic
80dBs
Vacuum cleaner
90dBs
Motorcycle with loud exhaust
100dBs
Rock concert
120dBs
Jackhammer
130dBs
Plane take off
150dBs
Explosion of an artifact
180dBs
What can we do to control the noise?
First, it has to be determined precisely what the extent of the noise problem really is. To do this, Prolisur makes its acoustic testing and analysis capabilities available to its clients based on an exhaustive knowledge of the techniques, as well as current regulations.
Once the noise problems suffered in an area or municipality have been correctly diagnosed, it can be controlled in two ways:
1. Acting on the noise source
Various measures can be taken for this, but undoubtedly one of the most frequent is to mitigate the transmission of vibration that produces noise. This would be the case of the vibration of a body, for example the refrigeration machinery of a room. This may not produce noise as such, but it can propagate a vibration through the wall of a building and when it comes into contact with a low-mass element, it becomes noise. This type of problem would be solved by placing vibration-dispersing elements, such as springs or inertia benches. You can see more information in our soundproofing and vibration control.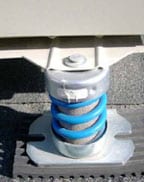 2. Controlling noise propagation
We can reduce the level of sound received by listeners by taking advantage of the dissipation of energy that occurs in the propagation of noise due to friction between particles as the sound wave advances in the air.
Another way to control noise is the attenuation that is produced by placing obstacles and barriers in the path of the wave in its propagation. The most used methods in this sense are the use of reinforcements of the acoustic performance of walls, ceilings and floors that limit the enclosures; the use of acoustic barriers and the use of acoustic encapsulations.
For their part, acoustic barriers are, in general, solid screens specially built to reduce the sound level behind them, thus protecting the listener.
Encapsulations or acoustic enclosures consist of enclosing the source in cabinets that reduce the level of emission outside the cabinets. These solutions are often used in building ventilation elements, normally installed on rooftops.