Insufflation: an excellent solution for the thermal insulation of your home
The blown-in insulation system offers clear advantages that make it the most recurrent option in homes.
24H
In a few hours the insulation is installed throughout the housing envelope.
NO WORKS
The insulation is blown through small holes in the facade or partitions.
CLEANSED
Insufflation does not generate dirt. At the end of the application, the holes are covered, leaving the wall intact.
ECONOMIC
The cost of the installation is lower than other insulations, in addition to the savings on the electricity bill that it entails.
If your home does not offer sufficient thermal comfort, it is time to improve your family's quality of life and save on electricity bills, even more so now that its price continues to rise.
Insufflation is the thermal insulation technique with the least complications for the client, cheaper and faster (even in less than 24 hours), with which savings in air conditioning of more than 60% can be achieved.
In addition, you can intervene from the inside without having to move and even from the outside. This solution is also ideal because it does not imply the loss of useful space by taking advantage of the existing empty space inside the walls.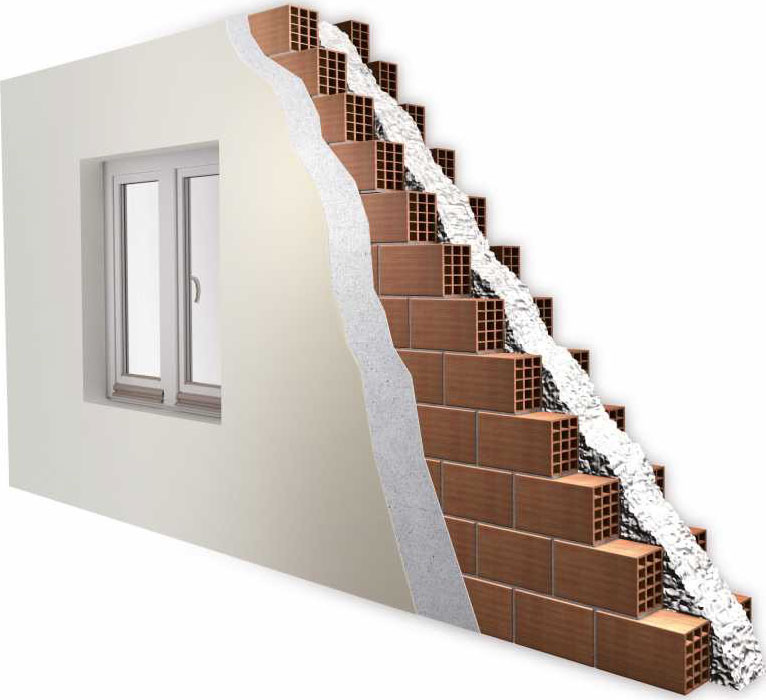 What does the work consist of?
Once confirmed by our specialists that the enclosure walls have suitable cavities for insufflation by means of an endoscope inspection, proceed as follows: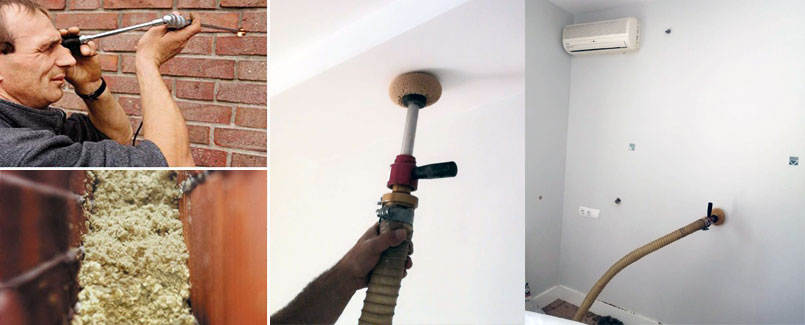 All those holes through which the insulating material can come out are sealed. For example, shutter boxes, especially if the chosen material is EPS pellets.

The material is blown into the wall with a predefined optimal pattern and thanks to a special machine that allows the insulation to be inserted while the pressure and density are controlled.

It is verified that the air chamber has been completely filled and the technical parameters that must be met are checked once again, guaranteeing an impeccable result.

The holes made are sealed and the rooms are cleaned of any small remains.

Once the work is finished, Prolisur issues its final work certificate.
Can blown ceilings be insulated?
As long as it is possible to access the hole to be filled with insulation, this technique is equally interesting for roofs.
Specifically, it can be insulated with this technique, if it is a sloping roof with an air chamber, by insufflation, or when it is possible to access the cavities between pigeonhole partitions that support the tiles, by blowing. Contact us to confirm if it is feasible in your case.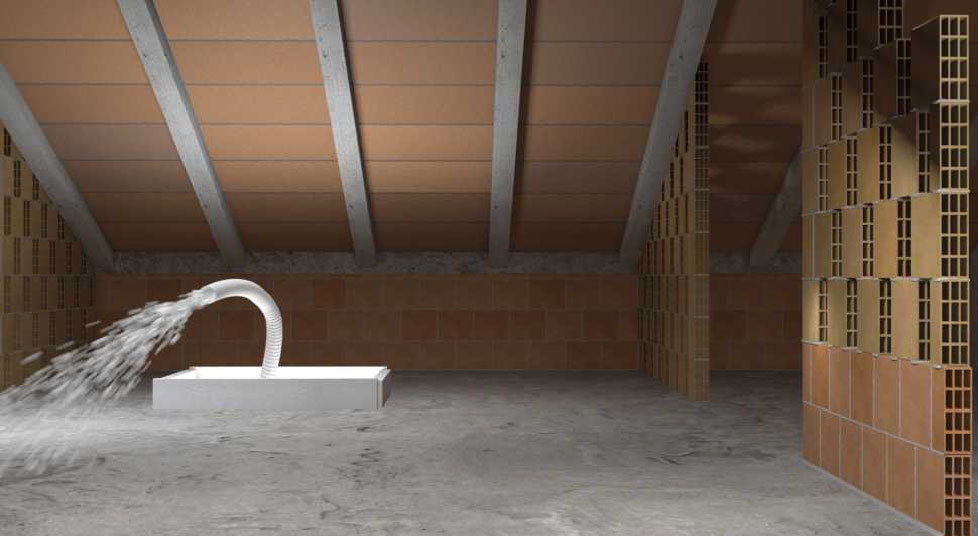 Inflated: what are the benefits?
Insufflation is a fast and economical insulation technique that does not change the appearance of the façade , nor does it require scaffolding if it is carried out from the inside, although it can also be carried out from the outside of the home or building.
Execution times are very short. In fact, in many cases, it is possible to get the job done in a single day, benefiting from immediate energy savings.
Thanks to the intervention, it is possible to access deductions from 55% – 65%: the investment is amortized in a few years.
Insufflation for thermal insulation of walls and ceilings: an operation that requires professionalism and experience
The concept of cavity insufflation is simple, but requires a refined technique. The existence of installations (wiring, ducts, etc.) and the technical specifications of the wall must be previously checked, so a correct endoscopic inspection by an approved installer is essential.
The wall must be observed both internally and externally.
In addition, it is necessary to check, through minimally invasive interventions, the thickness of the ventilated cavity. Make sure there are no obstacles such as debris, the position of columns, frames, roller shutter boxes or gaps. Analyze the ventilation, the interruptions of the facing by other elements and proceed to the correct preparation of the support for said purposes.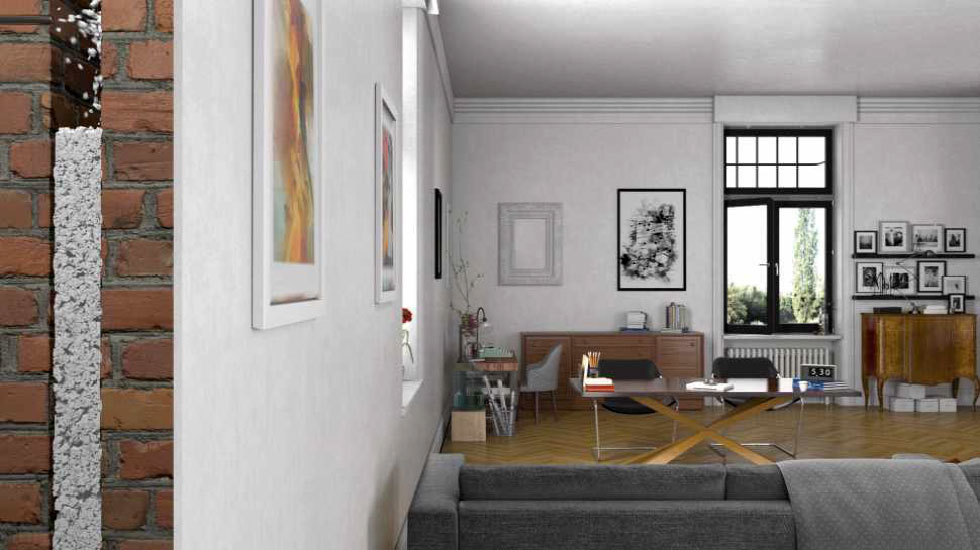 If the requirements for intervention are met, a series of steps are performed:
Holes for the insertion of the insulating material, at a horizontal and vertical distance not exceeding 1.5 m. The drilling scheme of each wall must be planned independently and around each window and door.
Next, the insulating material is inserted with a specific blowing machine and adjusting its parameters to ensure the correct installation density.
As proof, a special box is used, manufactured in accordance with the EN 14064-2 standard, through which it can be verified that the installation parameters are correct.
Blown materials improve interior acoustics, reducing noise throughout the home or workplace, enhancing the sounds you want to hear and quieting the ones you don't want from outside.
Among the blown materials, rock wool stands out as the most efficient acoustic insulation in the sector.
Protection against the fire
The insulation provides protection against fire. Thanks to its fibers resistant to high temperatures, it will limit the effects of the fire of a fire:
Protects combustible constructions or those susceptible to the effects of fire
Increases the fire resistance of structural elements
Does not feed or spread fire
Our insulations have been used as crucial, reliable and proven components, providing fire protection in structural elements and technical equipment.

Rockwool ROCKWOOL®
Rock wool for blowing or injection. Material derived from volcanic stone in the form of bulk rock wool nodules, therefore inflatable between walls and partitions. This product has unique properties, such as being rot-proof, resistant to humid environments and resistant to M0 or A1 fire.
Installation of RockWool® Stone Wool in your home
It depends on the size of the house. As a guideline, the application is done in a single day in the case of flats and 1 to 2 days in the case of single-family homes.
Only several 25mm diameter perforations will be made from the outside of the façade, or 40mm – 80mm perforations if false ceilings or plaster partitions have to be inflated from the inside.
Properties of RockWool®Stone Wool
Rock wool is fireproof and non-combustible (A1)
The blown rock wool we use is water-repellent
Rock wool is porous, therefore it acts as an acoustic insulator
RockWool® Rockwool Applications
Insufflation of false ceilings in arcades with the presence of water pipes
Insufflation in non-watertight roofs with leaks
Insufflation close to chimneys, boilers, hot tubes
Insufflation of small tubes connected between floors
Inflated in ventilation chambers (except basements)
Insufflation of false ceilings in places of public concurrence
Insufflation of facades of high-rise buildings

Isofloc®Cellulose
Isofloc® is a material made from shredded newspaper, to which additives have been added to give it fire retardant properties, against fungi, rodents and insects, obtaining a material with surprising thermo-acoustic insulating characteristics, totally ecological based on a recycled product.
Properties of Isofloc® Cellulose
Isofloc cellulose has fire retardant properties thanks to the additives it contains. When a flame of fire approaches the cellulose material, the cellulose does not burn but instead blackens creating a black protective layer, similar to an oxidation process, protecting the cellulose under said layer from the fire.
It is inflated simply by drilling or projecting it, so scaffolding or major façade renovation work is not necessary to reinforce its insulation.
It is an excellent acoustic insulation given its extreme porosity.
It is distributed homogeneously in all the gaps, avoiding joints and areas that remain uninsulated, thus avoiding interstitial dampness and thermal bridges.
Isofloc® Cellulose Applications
Insufflation in interior partitions and cladding
Insulation of unused roofs by projecting it dry between pigeonhole partitions that support a roof, plasterboard partitions, blowing it into hollow spaces in roofs, etc…
Drywall or plasterboard insulation
Insulation of wooden roofs or uninsulated roofs
General cavity insulation
Insulation of dormers and attics

Polystyrene NEOPOR®
Expanded polystyrene (EPS), a novelty in the form of lentils, has excellent insulating properties for chambers and insulation between exterior façade walls and interior tile.
The lentils are blown under pressure in the chambers and allow a homogeneous distribution of the insulation, avoiding the presence of thermal bridges. The lentils are impregnated with graphite, in this way the heat waves are reflected, before penetrating the insulating material, with an excellent result in thermal insulation.
Installation of Neopor® Polystyrene
By dry blowing
By opening 25 mm perforations on the outside or inside
The pressure causes the material to be completely distributed in the chamber in a homogeneous
Polystyrene Neopor® Applications
To isolate thin cavities (ventilation chambers from 1.5 cm thick)
Cavities with possible presence of interstitial dampness (facades that do not perspire)
To isolate very irregular cavities
To isolate fissured facades
To insulate in mountainous areas with extreme cold
To isolate areas that require a waterproof insulation
To isolate chambers from facades, go outside, when they are made of exposed brick.